Donnie Wahlberg shares behind-the-scenes fun times with co-star Tom Selleck on Blue Bloods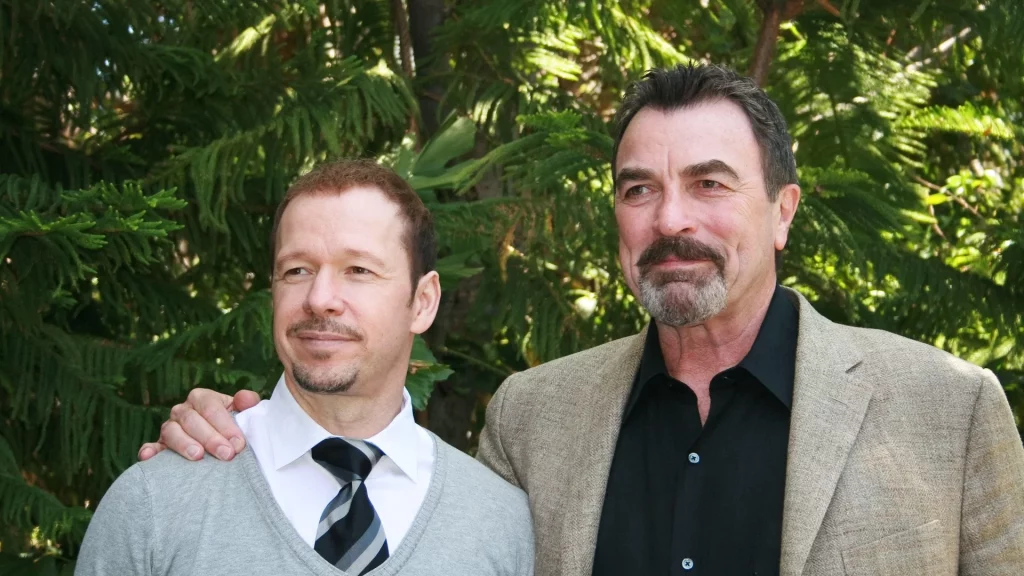 Donnie Wahlberg gave BLUE BLOODS fans a sneak peek of what's in store for the 13th season and shared some fun behind-the-scenes moments with co-star Tom Selleck.
Wahlberg posted a clip of the cast shooting one of its famous dinner table scenes, showing off the cast of the show.
When Wahlberg panned to Selleck, viewers could see the MAGNUM P.I. star's face mask was emblazoned with an image of the lower half of his own face — complete with his famous mustache.
He captioned the post with a tribute to his co-star, writing, "#TomSelleck = #Legend! #BlueBloods #family #dinner = #Legendary! Season 13 Coming soon! Let's go!"
Movieguide® previously reported on BLUE BLOODS' commitment to supporting the police, especially amidst today's anti-cop movement:
CBS's police drama BLUE BLOODS, which stars Tom Selleck, decided to forsake the trend of other network TV shows who boosted the Black Lives Matter's social justice message, and instead stood behind the police.
The most recent BLUE BLOODS episode centers around a city councilwoman whose goal is to defund the police and have New York Police Commissioner Reagan (Selleck) fired. However, the show honorably refuses to fall in line with the notion that all cops are bad, which contrasts the other police, law, and medical dramas debuting this season.
In the episode, the City Council Speaker Regina Thomas (Whoopi Goldberg) claims in an interview that the New York Police department is a model of "systemic racism and oppression."
The radio segment leads to a confrontation between the speaker, who says the police are "on trial," and Commissioner Reagan.
"Well, because you're putting it on trial. And, by the way, everyone is entitled to a vigorous defense, even my people," Reagan tells the speaker.
"Every single cop is being painted with the same brush. And when anyone in my rank and file conducts themself in a way that is not worthy of the uniform, they get dealt with," Reagan continues.
Speaker Thomas replies: "Every cop is wearing the same uniform, so if you get stopped walking while Black, how do you know which one is walking up on you?"
Reagan stands firm to defend his officers, and his reply is seldom seen on TV today: "Okay, how's a cop to know what he's walking up on? See, that fuse gets lit both ways. At least we can agree on that," Reagan replies.
Later in the episode, Reagan again defends the police. Reagan reprimands Thomas for her claim that cops are "part of the problem and not part of the solution." Moreover, Reagan calls out the Black Lives Matter reactionaries who do not offer a solution but "yell past" the other side.
In their second conversation, Reagan said that everyone is a part of the solution.
Unfortunately, BLUE BLOODS stands alone in their representation of policemen and women. According to Breitbart, premiere episodes of CHICAGO MED, CHICAGO P.D., SWAT, NCIS: NEW ORLEANS, and THIS IS US all fall in line with the Black Lives Matter accusations that all cops are racist, violent, and corrupt.