Prince Harry And Meghan Markle Just Got Another Royal Slap In The Face
Is King Charles ranking the royals on The Firm's official website? If so, Harry and Meghan's spot just might be another snub.
When Prince Harry and Meghan Markle opened up to Oprah Winfrey about what their life was like as senior royal family members, they revealed that they endured racist conversations about their son Archie's skin, dismissals of Markle's mental health struggles, and refusals to step in and correct the narrative when the press published negative stories about Markle, per CBS News.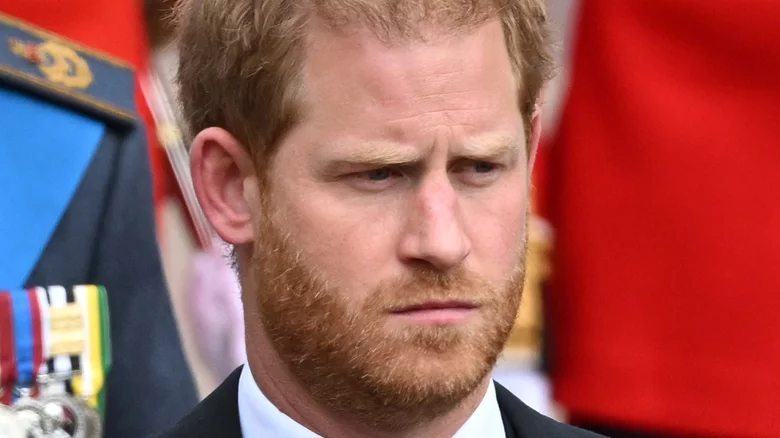 When Harry and Meghan reached their breaking point, they rocked the royal family by making the decision to extricate themselves from the situation. But leaving and cleaving hasn't provided them with much of a reprieve from reported slights by other royals — and what The Cut suggested might be a smear campaign. Ahead of the Duke and Duchess of Sussex's interview with Winfrey, The Times reporter Valentine Low published a piece detailing palace aides' allegations that the couple created a toxic workplace environment. Buckingham Palace investigated the claims in 2021, but decided not to make its findings public, per BBC News. However, Low went on to publish additional accusations against the couple in a book titled "Courtiers: The Hidden Power Behind the Crown," per Page Six.
However, it was Queen Elizabeth II's fune*ral that really opened up the floodgates. The Sussexes' presence sparked a barrage of stories about the snubs and embarrassment they reportedly suffered, and the affronts against the couple didn't stop after Harry said farewell to his grandmother.
Prince Harry and Meghan Markle's website snub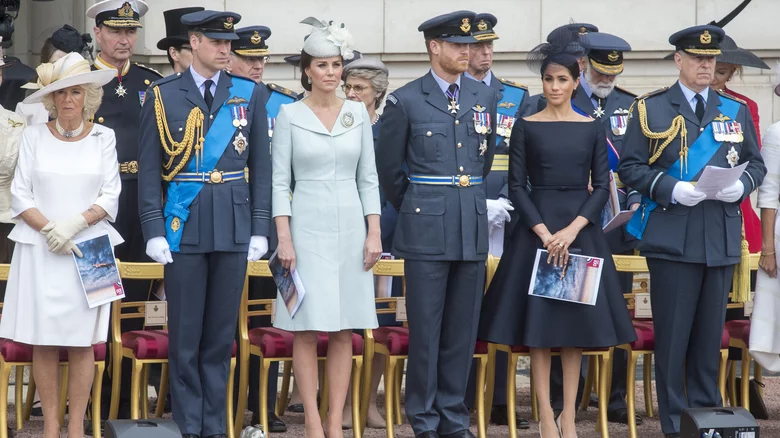 Prince Harry and Meghan Markle have moved again, but this time, they haven't traded the gray U.K. for sunny California — rather, they've been placed lower down on the royal family's website, per The Telegraph. The page was updated after Queen Elizabeth II's deat*h, and the new order is clearly not based on the order of succession. King Charles III has the prime position at the top of page. Queen Consort Camilla Parker Bowles is directly below Charles, followed by Prince William and Princess Catherine and all the other working royals.
Markle fans will have to scroll to the very bottom of the page to see her and Harry smiling above the royal given the final spot, Charles' disgraced brother, Prince Andrew. A number of minor royal family members are shuffled in front of him, including the Duke and Duchess of Gloucester, Prince Alexandra, and the Duke of Kent.
This move comes after The Telegraph reported that Charles was planning to remove Harry and other non-working royals from their roles as counsellors of state, which allows them to step in for Charles if he's unable to fulfill his duties as king. And one source told The Daily Beast that Charles wants Harry to simply stay away from the U.K.
King Charles III reportedly wants Prince Harry to make himself scarce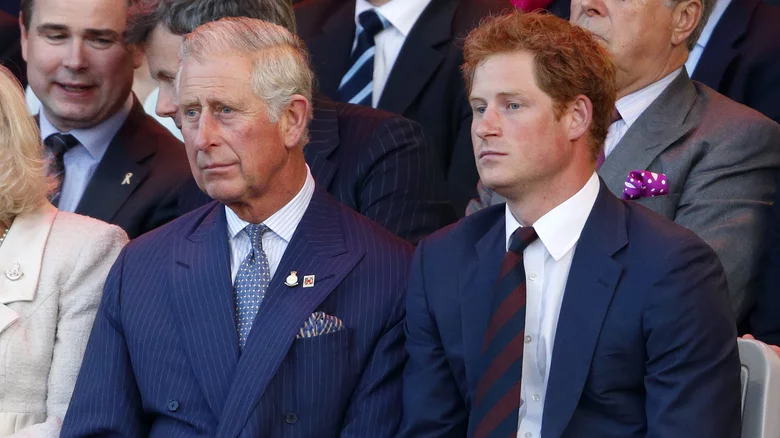 At Queen Elizabeth II's funeral, the Duke and Duchess of Sussex were met with numerous reminders of their diminished status in the royal family, like getting disinvited from a reception where they would have rubbed elbows with leaders from around the globe. A source told Page Six that Prince Harry and Meghan Markle didn't realize that they weren't welcome at the event until they read reports about it. Then, there was the decision to allow Harry to wear his military uniform to just one event — but with the "EIIR" insignia honoring his grandmother removed. "It doesn't look good, whatever the rights and wrongs of protocols," royal biographer Penny Junor told People. A source also told The Sun that Charles also told Harry that Markle would not be allowed to join the family at Balmoral when the queen was dyi*ng.
The seeming slights and snubs could just be dress rehearsals for the Sussexes' future with the royal family. Insiders told The Daily Beast that Charles is deliberately snipping away at his youngest son's royal status, suggesting that the king would even like to cut Harry out of the royal circle completely. "Charles will be ruthless when it comes to protecting the Crown," one source said. He would reportedly like the Sussexes to stay away from the U.K., and he has one more card to play if he wants to snub them in a big way.
Will Harry and Meghan's kids have royal titles?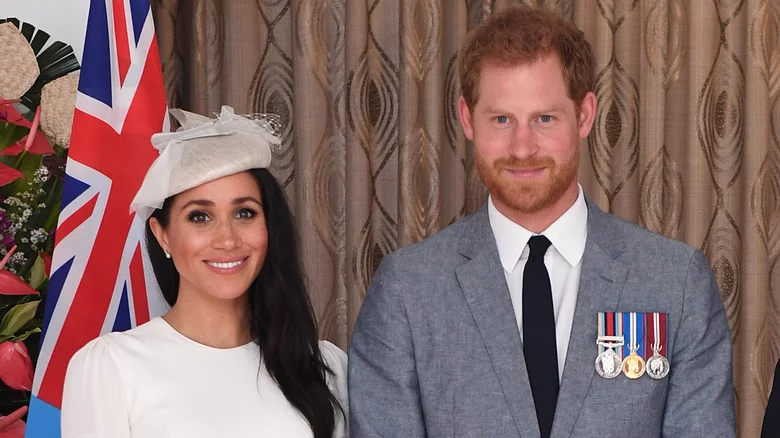 When Queen Elizabeth II di*ed, Prince Harry and Meghan Markle's children, Archie and Lilibet, were supposed to automatically receive the titles of prince and princess unless action was taken to indicate otherwise. But as People noted, the royal family has not recognized them as such. In an excerpt from Katie Nicholl's book "The New Royals" (via Vanity Fair), an insider close to King Charles III implied that the children getting to keep the yet-to-be-acknowledged titles is contingent on Charles being satisfied with what Harry reveals — or doesn't reveal — in his memoir. All a spokesman for the king would tell the Daily Mail is that any announcement about the titles would not happen until after the period of mourning for the queen concluded, the date of which was September 26.
During the Duke and Duchess of Sussex's interview with Oprah Winfrey, Markle revealed that she was pregnant with Archie when she was informed that he would not be receiving a title, per CBS News. She also explained that it wasn't the title itself that mattered to her, but the security that it would provide.
It remains to be seen whether the rift in the royal family can be fully repaired, but in Harry's eyes, it's better being out than in. "My father and my brother, they are trapped. They don't get to leave," he told Winfrey. "And I have compassion for that."
source NickiSwift.com