Prince Harry makes fresh accusations against royal family in ITV interview with Tom Bradby
Harry says royals have shown no willingness to reconcile
The Duke of Sussex has said he wrote his tell-all book Spare because of "38 years... of spin and distortion".
Prince Harry's bombshell interview aired on ITV on Sunday evening ahead of the release of his memoir Spare on Tuesday 10 January.
He told broadcaster Tom Bradby on ITV he was "really grateful" to have the opportunity to tell his story.
Asked why he had written his memoir Spare, he told Bradby: "38 years. 38 years of having my story told by so many different people with intentional spin and distortion felt like a good time to own my story and be able to tell it for myself.
"You know, I don't, I don't think that if I was still part of the institution that I would have been given this chance to.
"So, I'm actually really grateful that I've had the opportunity to tell my story because it's my story to tell."
In the interview, Harry made several shocking revelations about the royal family's relationship with the press, the fallout with his brother and his reaction to his mother's death.
Royal family's relationship with the media
Harry accused his family of "getting into bed with the devil" to rehabilitate their image, and the King of sacrificing Harry's interests in favour of his own.
Harry said he wanted reconciliation with his father and brother, and forgiveness was 100 per cent a possibility, but grilled by Bradby on whether he had taken a "flamethrower" to any bridges, the duke insisted: "Silence only allows the abuser to abuse."
"They've shown absolutely no willingness to reconcile up until this point. And I'm not sure how honesty is burning bridges," Harry added.
Speaking about Charles and William, Harry said: "I love my father. I love my brother. I love my family. I will always do.
"Nothing of what I've done in this book or otherwise has ever been any intention to harm them or hurt them.
"The truth is something that I need to rely on, and after many, many years of lies being told about me and my family, there comes a point where, you know, again, going back to the relationship between certain members of the family and the tabloid press, those certain members have decided to get in the bed with the devil, right, to rehabilitate their image."
Harry lambasted the British press throughout the sit-down interview, and accused the royals of being "complicit" in the conflict the media created.
Prince Harry also condemned Jeremy Clarkson's widely condemned column in The Sun.
Addressing the newspaper article, which prompted a landslide of complaints to press regulator Ipso and was eventually taken down, Harry told Bradby: "What [Clarkson] said was horrific, and is hurtful and cruel towards my wife.
"But it also encourages other people around the UK and around the world, men particularly, to go and think that it's acceptable to treat women that way," the duke, 38, continued.
Fallout with William and Kate
The Duke of Sussex said he had put a lot of hope into the idea the four of them would get along but stereotyping caused a "bit of a barrier" to the Prince and Princess of Wales welcoming Meghan.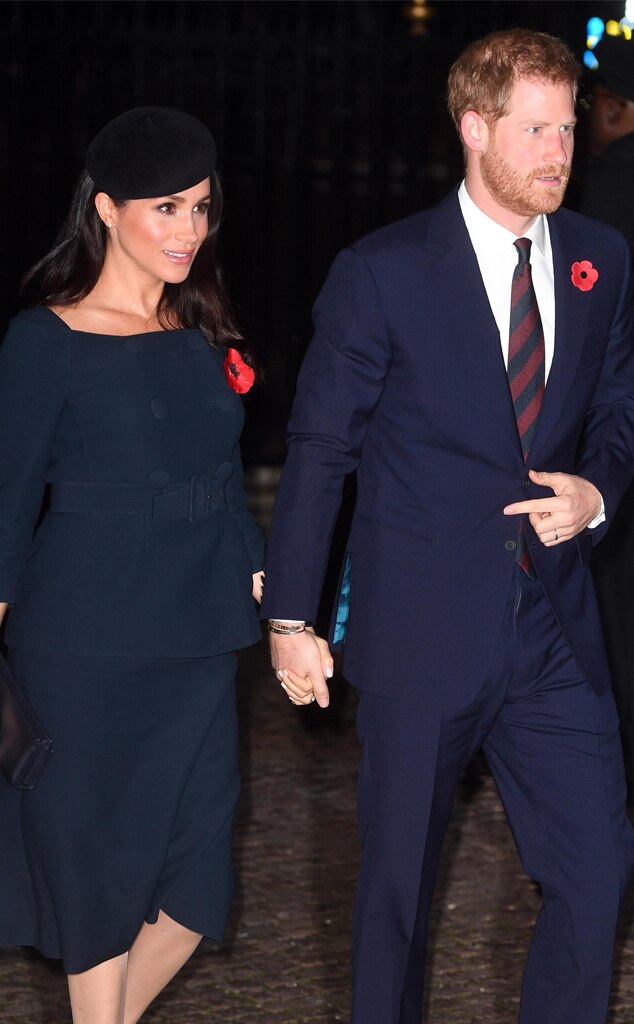 Mr Bradby said the impression was that his brother William and sister-in-law Kate did not get on "almost from the get-go" with Meghan, to which Harry replied: "Yeah, fair."
When asked what the reason was, he said: "Lots of different reasons ... I had put a lot of hope in the idea that it'd be William and Kate and me and whoever.
Before meeting Harry, Meghan had starred in US legal drama series Suits in which she played paralegal-turned-lawyer Rachel Zane. Harry laughed when telling Bradby his brother and sister-in-law were Suits "fans", adding: "Who would've thought? I never knew that."
Speaking about his wife, Harry suggested there was a lot of "stereotyping" that even he was "guilty of" at the beginning. When asked what exactly he meant by stereotyping, Harry elaborated: "American actress, divorced, biracial."
He continued: "There's all different parts to that and what that can mean but if you are, like a lot of my family do, if you are reading the press, the British tabloids at the same time as living the life, then there is a tendency where you could actually end up living in the tabloid bubble rather than the actual reality."
Breakdown with royal family
Prince Harry said he wishes the royal family had been there for him in the "second darkest moment" of his life.
The Duke lamented his family's unwillingness to reconcile following his move to the US with Meghan after a fallout around press coverage of his wife, which appeared to be the "dark moment" he was referring to.
"I love my mother country and I love my family and I always will. I just wish, in the second-darkest moment of my life, they'd both been there for me," Harry said.
"I would like to get my father back, I would like to have my brother back," Harry also said, adding: "They feel as though it's better to keep us somehow as the villains."
The duke also said there was a "horrible reaction" from his family members when the Queen died.
He said his brother "raised some concerns" about his marriage to Meghan Markle and of how his father the King blamed himself for his son's struggles, telling him "I should have got you the help you needed years ago".
The interview is the first of four broadcast appearances over the coming days, with the duke also speaking to Anderson Cooper for 60 Minutes on CBS News on Sunday night, Michael Strahan of Good Morning America on Monday and Stephen Colbert on the Late Show on CBS on Wednesday morning UK time.
Accusations against Camilla
Prince Harry also took aim at his stepmother Camilla claiming the Queen Consort launched a "campaign" to marry his father, now King Charles, in his new book Spare.
Harry narrated an excerpt from the now-leaked memoir during the broadcast of his ITV interview with Tom Bradby on Sunday (8 January).
During Harry: The Interview, the Duke of Sussex read out a section about Camilla's relationship with Charles from the ghostwritten autobiography.
Harry writes that while he and William "supported" their father's relationship with Camilla and "endorsed" her, they asked him not to marry her.
When Bradby suggested Harry was "pretty consistently scathing" towards Camilla, the duke replied: "There's no part of any of the things that I've said [in the book] that are scathing towards any member of my family, especially not my stepmother.