Sacheen Littlefeather: Oscars apologises to actress after 50 years
In 1973, Sacheen Littlefeather took the stage to reject an Oscar on behalf of Marlon Brando. She was given 60 seconds on stage to provide the following speech:
"Hello. My name is Sacheen Littlefeather. I'm Apache and I am president of the National Native American Affirmative Image Committee. I'm representing Marlon Brando this evening and he has asked me to tell you in a very long speech, which I cannot share with you presently because of time but I will be glad to share with the press afterwards, that he very regretfully cannot accept this very generous award. And the reasons for this being are the treatment of American Indians today by the film industry – excuse me – and on television in movie reruns, and also with recent happenings at Wounded Knee. I beg at this time that I have not intruded upon this evening and that we will in the future, our hearts and our understandings will meet with love and generosity. Thank you on behalf of Marlon Brando"
She kept her full composure despite the boos and jeers coming from the audience. John Wayne had to be restrained by security because he wanted to physically assault her as she left the stage.
Clint Eastwood mocked her by saying that he was presenting the award on behalf of "all the cowboys shot in all the John Ford Westerns." Subsequently, Littlefeather was blacklisted by Hollywood and never worked again.
Nearly half a century later, Littlefeather will return to the Academy as a guest of honor on September 17, 2022.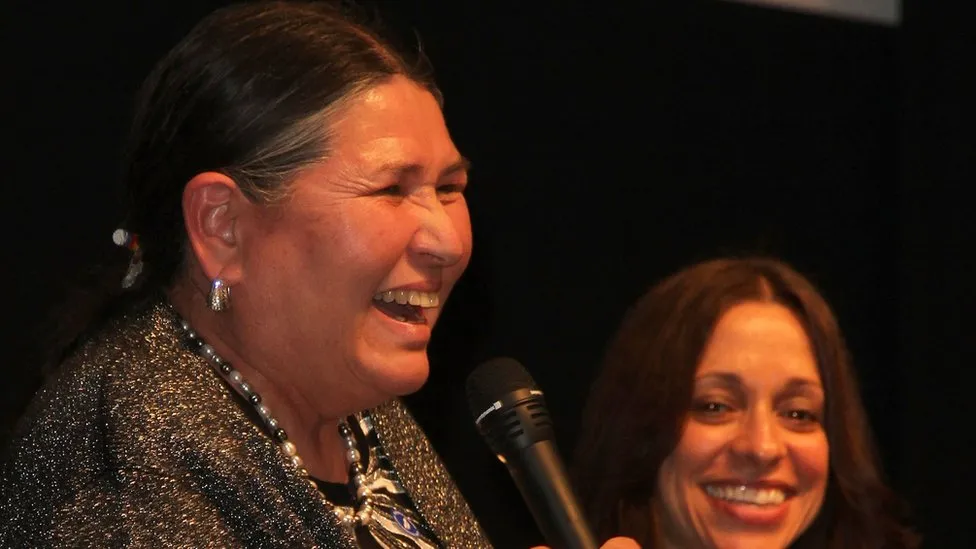 Some people used the "Tomahawk chop" - seen as a demeaning gesture to Native Americans - as she was walking by.
Brando had written a much longer speech, but Littlefeather was instructed by the award ceremony's production team to keep the rejection to 60 seconds.
It was televised to 85 million people. Some media reports after the event claimed Littlefeather was not truly a Native American, but rather that she agreed to the speech to help her acting career. Some speculated she might be Brando's mistress.
She told the BBC all those claims were untrue.
"The abuse you endured… was unwarranted and unjustified," David Rubin, former president of the Academy of Motion Picture Arts and Sciences, wrote in a letter to Littlefeather made public on Monday.
Mr Rubin said the speech at the 45th Academy Awards "continues to remind us of the necessity of respect and the importance of human dignity".
The Academy Museum of Motion Pictures will host an event in September, in which Littlefeather will talk about her appearance at the 1973 Oscars and the future of indigenous representation on screen.
In response to the apology, she said: "We Indians are very patient people - it's only been 50 years!"
She added that keeping a sense of humour is "our method of survival".