"Yellowstone" is back for what is sure to be a thrilling Season 5. As far as we can tell from the trailer, war is set to ensue in Montana after John Dutton (Kevin Costner) is officially sworn in as the state's governor.
The Dutton family now basically runs the state, and their ranch will have enemies att'acking from all sides. Because of Jamie (Wes Bentley) political background, he plays an important role on his father's staff, while Beth (Kelly Riley) becomes John's new chief of Staff. "Yellowstone" has long been a show with critics and fans alike, and the show still holds an 83% critics rating and 84% audience score on Rotten Tomatoes. No doubt thanks to dynamic casting by co-writers Taylor Sheridan and John Linson.
The protagonist of this show is full of firepower. Kevin Costner is clearly a longtime movie star and two-time Academy Award winner (via IMDb). Then there's Bentley, who has appeared in everything from "American Beauty" to "The Hunger Games" and Christopher Nolan's space-epic "Interstellar."
However, Reilly often steals the show as Beth. Many even thought she won an Emmy this year after her direct nomination for the Outstanding Actress in a Drama Series (via The New York Times).
Either way, Beth has gone through a lot on the show and is someone the people of Montana shouldn't mess with. Reilly revealed that she even has to go through an extensive process to become Beth.
Becoming Beth is an emotional and physical transformation for Reilly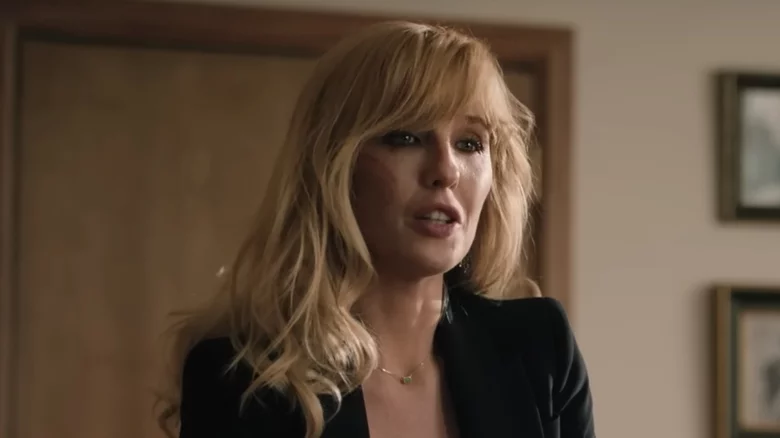 While speaking with Entertainment Tonight in January about everything to do with her character of Beth Dutton, actor Kelly Reilly explained that becoming Beth is quite emotionally and physically transformative.
She noted that a lot of Beth's emotional scenes, specifically with Wes Bentley's Jamie can be challenging due to the character's pain. "A lot of those scenes are really difficult to play because they're so filled with pain, so they're pretty bru'tal to drop into," Reilly said. "It's hard to talk about it honestly because it's hard for me to — when I'm playing her, I'm full in, and then it's sort of like coming out, and then I watch it and I don't even remember doing some of the scenes," she continued.
Reilly further explained that she now had to physically prepare herself before shooting with all of Beth's scars. The character barely survived the exp'losion at the end of Season 3 and has permanent burn marks on her back. Reilly explained that the special effects and makeup department had to put about 45 burn marks pieces on her, which she felt would help her play Beth even better. "I love when I'm Beth all bashed up like that's who she is. There's that sort of, that warrior who just fights all the time, and so the fact that she's getting scars, it just makes sense," Reilly said.
Source Looper